Nevan Charles Elam, J.D.
Chief Executive Officer & Founder
Mr. Elam is a native of Silicon Valley who has been managing and advising healthcare and technology companies for more than 25 years.
Prior to co-founding Rezolute, Mr. Elam served in various senior leadership roles including as CEO of a European medical device company and as Head of the Pulmonary Business Unit at Nektar Therapeutics (NASDAQ: NKTR). During his tenure at Nektar, he was instrumental in reshaping the pipeline and streamlining the organization. Prior to negotiating the sale of his division to Novartis, Mr. Elam spun two entities out of Nektar, including Pearl Therapeutics which was acquired in 2013 by AstraZeneca, for $1 billion.
Earlier in his career, Mr. Elam was CFO and co-founder of a web based IT platform company serving the electronics and healthcare industries where, in addition to managing finance and business development, he established operations in the US as well as throughout Asia.
In the 1990s, Mr. Elam was a corporate partner at Wilson Sonsini Goodrich & Rosati, where he advised domestic and ex-US healthcare and technology companies on various matters from debt and equity financings to cross-border transactions. His clients included emerging growth companies as well as mature corporations such as Genentech and Hewlett Packard. Notably, he negotiated the sale of Steve Jobs' company, Next, to Apple.
In addition to serving on the board of Rezolute, he also serves on the board of directors of Savara, Inc. (NASDAQ:SVRA) in Austin Texas and Softhale in Brussels, Belgium.
Mr. Elam received his B.A. from Howard University and his J.D. from Harvard Law School.

Brian Roberts, M.D.
Head of Clinical Development
Prior to joining Rezolute Bio, Dr. Roberts directed clinical development at Fibrogen, Inc, where he helped successfully launch and execute the global Phase 3 program and pharmaceutical partnership for a novel oral therapy for anemia associated with kidney disease, concluding the largest Phase 3 program ever conducted in CKD anemia, and resulting in global NDA filings. During his tenure, Fibrogen achieved the largest biotech IPO in the previous 10 years. From 2007 until 2012 Dr. Roberts held clinical development positions of increasing responsibility at Metabolex, Inc., where he developed novel therapies for metabolic diseases such as diabetes, dyslipidemia, NASH, and gout. His program and clinical leadership from IND through clinical proof-of-concept helped secure a global licensing and co-development agreement with a major pharmaceutical partner for a novel diabetes therapy. He is an inventor or author on more than 20 patents and publications in the fields of Endocrinology and Metabolism. Dr. Roberts received his B.S. in biochemistry from the University of California, San Diego and his medical degree Magna Cum Laude from Georgetown University. He completed residency in Internal Medicine and fellowship in Endocrinology at Stanford University, where he also now serves as Adjunct Associate Professor in the Division of Endocrinology.
Erin O'Boyle
Head of Clinical Operations
Erin O'Boyle joined Rezolute with nearly 20 years of operational and management experience across all phases of development covering several therapeutic areas, including oncology, anemia, idiopathic pulmonary fibrosis and rare disease indications. Prior to joining Rezolute, Erin worked at Fibrogen where she led all clinical outsourcing and governance activities from 2013 to 2018. Erin successfully contracted and managed all vendors for each clinical department which supported their various programs. These programs ranged from the largest Phase 3 global anemia program ever conducted resulting in NDA filings to a small Phase 2 rare orphan pediatric study in Duchene Muscular Dystrophy.
Before transitioning to a clinical lead in both contracting and governance, Erin was the Head of Clinical Operations at Heron Therapeutics from 2005 to 2013. During her time at Heron Therapeutics, Erin successfully led a clinical program from Phase 1 up through NDA approval of SUSTOL® (granisetron), an extended-release injection, for subcutaneous use for the prevention of acute and delayed nausea and vomiting associated with initial and repeat courses of chemotherapy. To date, this is the largest CINV program ever conducted.
Erin obtained a Bachelor's degree in Biology from Stonehill College.
Keith Vendola, M.D., M.B.A.
Head of Strategy
Dr. Vendola brings over two decades of experience in healthcare corporate finance, strategy, and operations. As a Silicon Valley-based executive and adviser and NYC-based investment banker, he has been involved in more than 50 transactions and has helped companies raise nearly $1 billion.
Dr. Vendola joined Rezolute in 2018 as CFO and has been instrumental in the company's financing activities during his tenure, including raising more than $90 million from strategics and leading healthcare investment funds. Following the closing of a transformative fundraising for the company in October 2020, Dr. Vendola led the Company's successful mission to list its securities on Nasdaq and was subsequently promoted to Chief Strategy Officer.
In his broader role, Dr. Vendola is responsible for general corporate strategy, all of corporate development, and investment banking relationships, as well as critical matters in the company including intellectual property and capital acquisition strategy/deal execution.
Dr. Vendola previously served as Chief of Staff to the CEO and Vice President of Competitive Strategy at Coherus BioSciences while the market cap exceeded $1 billion. His responsibilities included building relationships on Wall Street, framing corporate strategy, and executing multiple financings, which together raised $300 million. Prior, Dr. Vendola served as Vice President of Finance and Corporate Development at Eiger BioPharmaceuticals. His responsibilities included building and overseeing all financial operations, establishing the Silicon Valley headquarters, and executing multiple financings and product licenses from Stanford University and pharmaceutical companies. Prior, Dr. Vendola led business development at Threshold Pharmaceuticals (now Molecular Templates). In this role, he was part of the team that successfully took the company public on Nasdaq.
Earlier in his career, Dr. Vendola served as an investment banker within the healthcare groups of Banc of America Securities (now BofA Securities) and Chase (now JPMorgan).
Dr. Vendola received an MBA in finance from Northwestern's Kellogg School of Management, MD from Dartmouth Medical School, and BA in psychology from the College of the Holy Cross, where he graduated with honors. He completed a research fellowship in the Developmental Endocrinology Branch of the National Institutes of Health, where he was an author on multiple papers.
Michael R. Deperro
Head of Operations
Prior to joining Rezolute Inc. in 2016, Mr. Deperro spent the past two decades in technical operations leadership roles within large pharma, biotech, generics and in a contract development and manufacturing capacity. A Mechanical Engineer from the University of Notre Dame and former US Army Officer, Mike's early career focused on the implementation of manufacturing and research infrastructure in the US and Ireland for companies including Schering Plough, Merck and Novartis. Transitioning from pharmaceutical engineering to operations management, Mike directed the startup of a generic parenterals business unit, focusing on plant establishment, product development and support of product launch for global markets. As Director of Manufacturing at Alkermes, Mike's manufacturing operation supported global sales of Risperdal® Consta®, the launch of Vivitrol® and delivery of Phase 3 supplies for Bydureon®, all commercialized controlled release formulations utilizing injectable microsphere technologies. These commercial manufacturing operations encompassed polymerization, bulk sterile microsphere manufacture and aseptic fill finish for US and ROW markets. Most recently, as General Manager for GMP Operations at Bend Research, and Vice President of Operations for Agere Pharmaceuticals, Mike led specialized teams charged with the delivery of early phase clinical supplies for complex, poorly soluble molecules in fast-paced multi-client environments. Mike's passion for leadership, integration of complex technologies and a strong belief in positive patient outcomes provide a strong foundation for the development of sustainable operations at Rezolute.
Paula Opal
Head of Regulatory
Paula Opal joined Rezolute in June 2019 with over 20 years of experience and regulatory drug development expertise. She has detailed knowledge of small molecule and biologic regulatory development ranging from early discovery through FDA approval and she is experienced in leading regulatory aspects of multidisciplinary clinical-stage and post-marketing projects. Prior to Rezolute, Paula was at a Genentech for eight years where she led the regulatory strategy for large and small molecule products across several therapeutic areas. Her most recent focus was in anti-infectives including early development of antibiotics for multi-drug resistant infections and, as US Regulatory Lead on the Xofluza® program, Paula led the regulatory development of treatments for severely ill and pediatric influenza patients.
Prior to that, Paula held regulatory positions of increasing responsibility on major programs within pharmaceutical companies in Colorado and Bay Area including NeXstar Pharmaceuticals, Gilead Sciences, OSI Pharmaceuticals, Replidyne, Exelixis, and MAP Pharmaceuticals.
Paula obtained a Bachelor's degree from the University of Colorado, Boulder.
Sharon Xueyan Wang, Ph.D.
Head of Preclinical Development
Dr. Wang joined Rezolute, in 2014, with two decades biotech and pharmaceutical industry experience. She has broad knowledge and expertise in major aspects of small molecule and biologic therapeutic development ranging from target validation, drug discovery, preclinical development to clinical studies. She is experienced in managing core functional groups, overseeing contracted studies and leading multidisciplinary preclinical- and clinical-stage projects. Prior to joining Rezolute, Dr. Wang held positions with various responsibilities at Sugen (a subsidiary of Pharmacia acquired by Pfizer), Cymabay (formerly Metabolex), Takeda California, and NGM Bio. She has contributed to the development of two anticancer medicines that are currently on the market and is an author/inventor of over 40 publications and patents.
Dr. Wang received her Ph.D. in Physiology from University of Michigan and completed postdoctoral training in Cancer Research at Purdue University.
Sankaram Mantripragada, Ph.D.
Scientist Emeritus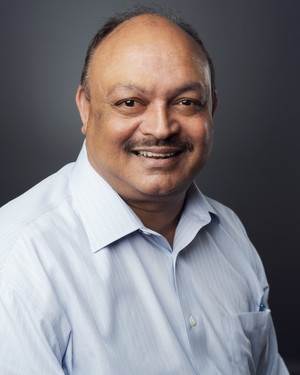 As the author and inventor of over 70 publications and patents, Dr. Mantripragada is a widely recognized expert in long-acting injectable therapies with demonstrated success in the discovery and development of a number of commercially marketed drugs, including Exparel®, Depocyt® and Xcience®. He designed and developed Locemia Solutions' intranasal glucagon, the first potential needle-free rescue treatment for severe hypoglycemia that was recently acquired by Eli Lilly and Company. Previous to co-founding Rezolute, Inc., Dr. Mantripragada served as Vice President and Head of Research & Development at PR Pharmaceuticals, Inc. Throughout his career, Dr. Mantripragada has served as an advisor to several companies specializing in diabetes, cell based therapies and cardiovascular diseases. His prior roles include Director of Research & Development at Guidant Corporation (now part of Abbott Vascular), as well as Director of Research & Development and Vice President of Scientific Development at SkyePharma (now Pacira Pharmaceuticals). Prior to transitioning to the pharmaceutical industry, Dr. Mantripragada was Assistant Professor of Biochemistry at the University of Virginia School of Medicine. His training includes a Ph.D. in Molecular Biophysics from the Indian Institute of Science and postdoctoral research at the Max Planck Institute for Biophysical Chemistry in Germany.